HELLO
Ame. Hakuu. Niwakame. Kosame. Tau. Yokoburi. Fuu. Kanu. Shuu rin.
Keiu.
These are just 10 of the 50 words for rain in the Japanese language. Why would you need 50 words for the same meteorological phenomenon, you might ask? That's because no two rains are the quite the same.
There's morning rain, autumn rain, windy rain, sleety rain, night rain, pouring rain! Now that the monsoon has got off to a start, albeit late, why don't we practise mindfulness by observing each burst of rain this season?
The rain is glorious to watch through an open window while you work. And in this issue of Shared Space, that's the mood we want you to capture in your home office. We talk about the nuts and bolts that you need to set up a functional home office, but don't forget the little touches that make this space your own. The good news is, we have  3 BHKs complete with home office available at Vaswani Exquisite!
Also check out the futuristic fitness home equipment we have found for you. Though not all of them may be available in India, there are alternatives already flooding the local market.
Our very own chef Rana Gomes has whipped up a nifty spaghetti arrabbiata that you can easily recreate in your kitchen. Take a picture and tag us on Instagram.
Sing in the rain. Dance in the rain. Watch the rain. And join your kids as they jump up and down in muddy puddles!
Team Vaswani.
FEATURE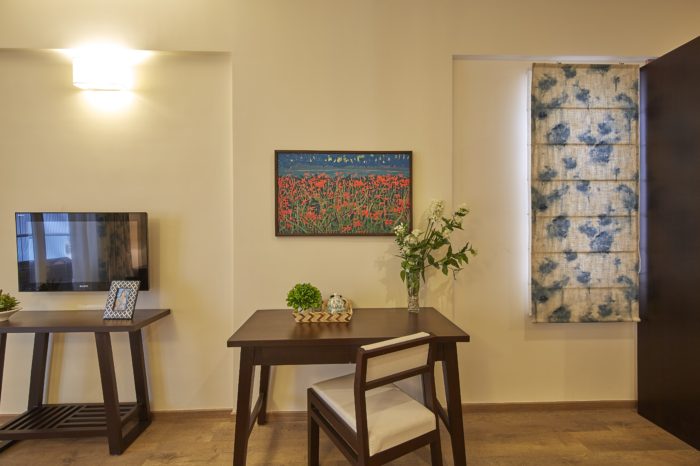 HOME OFFICES: THE BEAUTIFUL AND THE BEST
Ever been on a Zoom call where several people seem to have the same bookshelf or potted plant behind them? Your workspace or home office need not be Instagrammable, but it does help if it is well thought through and unique to you, so you don't have to hide it with a generic background!
A great home office should ideally meet your requirements. What it looks like is secondary. Function over form, always. Having said that, since we spend so much time at our desks, who wouldn't want a clutter-free and beautiful space with some strokes of inspiration?
MUST-HAVES
GREAT SPOT
Find a separate room, preferably with a large window with a view. There's nothing better than a workspace bathed in natural light. Arrange your table so that you face the window while you work, to avoid reflecting the trees on your laptop screen or worse, appearing in silhouette on Zoom calls!
DOOR WITH A LOCK
The value of a locked door is best appreciated by one who has small children and needs to get work done. If you have
a caregiver available, do get a room with a door that can be locked. Talk to the children; tell them that you need to
work undisturbed for a few hours, and that you will be locking the door. But also let them know when you're likely
to be done, and when you'll play with them. Kids get it, especially if we set expectations right.
STAY STRONG…
… is what you tell your wi-fi every day. With everyone in the family working or studying online from home, high
speed internet is an absolute necessity and an investment that's totally worth it.
STATEMENT DESK AND COMFY CHAIR
If you want to avoid getting repetitive stress injury, consider investing in a desk and chair that are ergonomic.
The choice of a desk is extremely subjective; some people might need lots of storage built in, while others might
need a large desk with clear space to spread out papers to read or work on. Make your desk a statement piece that
will last for years. Your office can be designed around the desk as a focal point. And if your job is largely sedentary, do think about getting an additional standing desk. Research shows that standing desks not only help avoid weight gain, but also reduce blood pressure, the risk of heart disease, back pain, and even boost productivity!
LARGE MONITOR
Getting a large monitor as a secondary screen next to your laptop gives your eyes a break and may even prevent neckaches. Dual monitors give you more viewable real estate, thereby reducing time taken to switch between tabs or windows and heighten productivity.
HIGH QUALITY POWER STRIPS
There's never enough when it comes to plug points. Get high quality power strips with individual switches for each plug, so that you can save energy when the point is not in use. The only drawback? Ugly wires all over the table or the floor. Neatly organise them using cable ties or cable organiser boxes.
POWER BACKUP
Most apartments come with power backup, but Murphy's Law always kicks in, especially when you have an important meeting. Have your own power backup so that even if the generic backup fails, your work will seamlessly go on.
ADEQUATE STORAGE
Nothing clutters the mind like papers and files strewn on the table. Invest in a storage unit large enough to contain all paperwork and stationery, so that your table is all set for creative thinking.
SOUND AND LIGHT
A good pair of noise-cancelling headphones will turn your home office into a haven, keeping out the noise of the
household. Also, even if the room has good natural lighting, do pay attention to extra lighting for evenings when you work late or when the sky is clouded over.
SPECIAL TOUCHES
What makes your space uniquely yours are the little extras that you bring in. These speak of who you are, and your individual aesthetic. Here's a list of the kind of special touches you could add to your home office:
• Artwork
• A statement rug
• Plants and decorative planters
• Retro or minimal speakers for music
• Quirky stationery
• Scented candles, vaporisers, or reed diffusers
• A coffee maker, if you want to be really decadent
• Home fitness equipment
So go ahead and do up your home office with not just the essentials but with also the distinctive pieces that are an
extension of your personality.
SPECIAL

 
ON TOP OF SPAGHETTI
Have you heard the quirky camp song that goes like this?
"On top of spaghetti all covered with cheese, I lost my poor meatball when somebody sneezed!"
Since the rains are almost upon us, make sure you don't sneeze and lose your meatball. In any case Chef Rana Gomes from our Royal Orchid & Regenta Hotels has put together this finger-licking recipe for spaghetti arrabbiata that's sure to be a big hit with your kids and all their friends!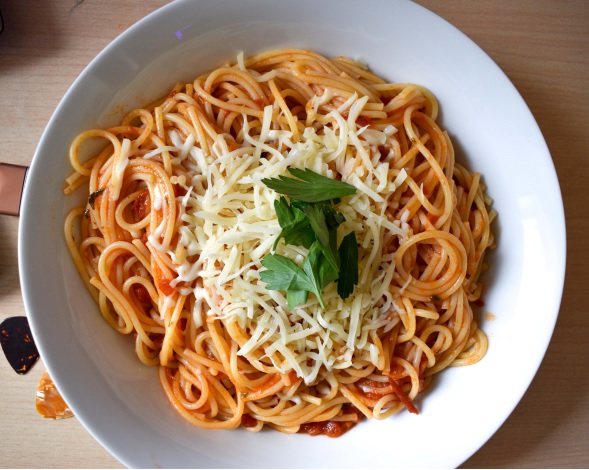 Ingredients:
Spaghetti pasta – 350 gm                                               Chopped onions – 100 gm
Tomatoes, chopped – 500 gm                                        Chopped garlic – 20 gm
Basil leaves, roughly torn – 1 sprig                                Sugar – 5 gm
Basil leaves, chopped – 10 gm (for garnish)                Salt and pepper – To taste
Olive oil – 10 ml                                                                 Parmesan cheese – 20 gm
Red chilly flakes – 5 gm
Preparation:
1. Heat a pot of water with salt and oil; let it boil, add spaghetti pasta, and allow it to soften.
2. Cook the pasta al dente, drain, rinse under cold water, and keep aside. Drizzle some olive oil over the spaghetti pasta.
3. In a heavy-bottomed pan, heat the olive oil. Add chopped onion and garlic; sauté until translucent.
4. Once it's cooked through, add chopped tomatoes, red chilly flakes, salt, sugar, and basil leaves. Sauté till the tomatoes become soft.
5. Add 50 ml of stock and bring the spicy arrabbiatta sauce to a brisk boil. Allow the sauce to thicken. Check the salt and adjust according to taste.
6. Add the cooked spaghetti and toss the spaghetti and arrabbiata paste for 3-4 minutes until the spaghetti is well-coated with the pasta sauce.
7. Turn off the heat; check the taste and spice and adjust accordingly. Transfer the spaghetti arrabbiata pasta to a serving bowl, sprinkle parmesan cheese on top, and garnish with basil leaves.
8. Serve hot with garlic toast.
Recipe courtesy: Chef Rana Gomes, Area Chef – South India, Hotel Royal Orchid & Regenta Hotels
Get in Touch
Bangalore
Vaswani Victoria, 30 Victoria Road, Bangalore – 47
Phone – 080 49110000
Mumbai
601, Sant Nivas, 14th Road Corner, Khar West, Mumbai
Email – sales@vaswanigroup.com
www.vaswanigroup.com